Sunny is an assistant and secondary character in The Niflheim+. She is Orlando's assistant and helps him carry out his duties as the earl of Niflheim.
Personality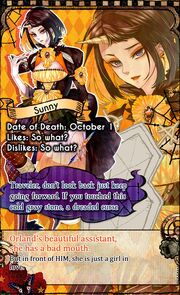 Despite her seemingly cheerful name, Sunny's personality is just the opposite. Ironically, it is typical for her to be pessimistic, apathetic, or dismissive. She grew up without knowing what it was like to receive compassion, and had little faith in humanity to be humane. Consequently, Sunny is hesitant to being vulnerable with her feelings and has difficulty placing trust in others. She is in love with Victor, a doctor in the kingdom of Niflheim. In his presence, Sunny becomes a kinder, livelier person.
Background
During her lifetime, Sunny lived in a poverty-stricken town where deception and crime were prevalent. She was neglected by her parents and lacked the company of friends. She initially welcomed her own death, as it was an escape from her life of struggles and hardships.
After her death, Sunny was reborn in the Niflheim. About 800 years ago, she was spotted by Victor while she aimlessly wandered around her new, unfamiliar environment. After meeting her, Victor took Sunny to King Jean in Niflheim Castle and asked him if she could work there.[1] Since then, Sunny has developed affectionate feelings for Victor and becomes more bashful and sensitive when he is nearby or brought up in conversation.
Gallery
Image Gallery
Screenshots
Quotes
"It's a lie that everyone's equal. This world is overflowing with unfairness. There will always be an overwhelming gap between the rich and the poor."[2]
"I've seen the worst of humanity. I'm fed up with it."[3]
References
↑ The Niflheim+: Sunny's Before We Met Event Story Chapter 1 Episode 6
↑ The Niflheim+: Sunny's Before We Met Event Story Chapter 3 Episode 9
↑ The Niflheim+: Sunny's Before We Met Event Story Chapter 3 Episode 9